HER PLACE: Women's Museum Pop Up Exhibition
16 May – 3 June, 2016
Town Hall Room, Melbourne Town Hall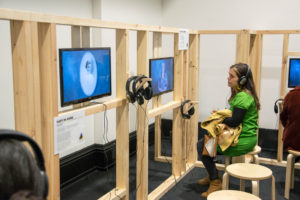 Women's contributions and achievements are often overlooked and under-acknowledged. In 2000, Museums Australia penned a Women's Policy for Museum Programs and practice. It acknowledged that museums had traditionally represented dominant patriarchal interests and had therefore prioritized the experiences of men over women.
Women's interests were generally under represented in museum collections and publication programs. As a result, we know less about women1s achievements in the public sphere, and run the risk of undervaluing their contribution to society. Significant work has been done by state and national museums to address this bias by showcasing the input of women across all fields of endeavour.
However, there is still a long way to go.
HER PLACE wishes to build on these foundations and establish a contemporary, energetic space dedicated to sharing the feats and accomplishments of Australian women. It plans to celebrate their social, civic and economic achievements and their critical role in shaping the landscape of our country. HER PLACE will be a dynamic place of discovery, education, debate and engagement. 
This exhibition and program of public events was designed to raise community awareness of HER PLACE, as well as seeking public investment in its development. Nine Victorian women shared their stories, highlighting their abilities and triumphs. In addition to these profiled women, a program of public discussion explored issues affecting women today of all ages.
Women profiled in the exhibition
1. VIVIAN BULLWINKEL
1915 - 2000
Sole survivor of a machine gun massacre of Australian Army nurses on Japanese-occupied Bangka Island, off Sumatra, in World War Two, Vivian Bullwinkel was wounded and feigned death. Twelve days later, and with an injured British soldier she'd been helping, Bullwinkel surrendered and spent the subsequent three and a half years in a brutal Prisoner of War camp. What gave her the will to endure was Vivian's need to tell the story of massacre and memorialise the 21 slain nurses.
After leaving the Army in 1947 Vivian Bullwinkel became Director of Nursing at Melbourne's Fairfield Hospital, a post she held for 16 years. In the 1970s, she served as President of the Australian College of Nursing. Over her lifetime Bullwinkel received many honours and was awarded the Florence Nightingale Medal for nurse bravery, an MBE and the AO.
Inducted into the
Victorian Honour Roll of Women 2001
2. DEBORAH LAWRIE
b 1953
Using the new Victorian Equal Opportunity legislation, and her then married name, Deborah Wardley would finally prevail in her protracted battle to become Australia's first female commercial airline pilot. In 1978 she won the first sex discrimination case against an employer, in this case Ansett Airlines.
Already equipped with private and commercial licences, Deborah had been applying for two years for a training position but was constantly rejected. When Ansett was forced to employ her, the company invoked a so-called near-miss at Moorabbin Airport in an attempt to sack her. Ansett relented when unions took on her cause, and yet Deborah was still not assigned to an aircraft.
In 1979 when Rupert Murdoch and Peter Abels bought Ansett, Deborah, (late rto revert to her single name Lawrie), appealed to Murdoch who immediately directed she was to be treated the same as any male pilot. Deborah made her first flight as a co-pilot of a Fokker F27 on the Alice Springs-Darwin route in January 1980.
Deboral Lawrie is currently employed by Tiger Airways Australia as Check and Training Captain.
Inducted into the
Victorian Honour Roll of Women 2001
3. REBECCA SCOTT
b. 1971
To help homeless and at-risk youth, often unable to finish education or access training and employment opportunities, Rebecca Scott inverted the usual social enterprise model with a practical solution and founded STREAT in 2009. An organisation that gives education and experience in hospitality to disadvantaged young people in Melbourne, the motto of the organisation is "solving social issues through business", ie not through handouts. Commencing with a food cart that converted quickly into a coffee cart and multiple cafes in and around the CBD, Rebecca Scott estimates STREAT has enabled thousands of hours of on-the- job paid experience, and served hundreds of thousands of meals. The enterprise is now 70 per cent self-funded. The long term goal is grand, "To stop youth homelessness one meal at a time".
Scott has been awarded a Harvard Business School Scholarship and in 2016 was a Victorian Local Hero nominee in the Australian of the Year Awards.
4. MARY De GARIS
1881-1963
In 1907 Mary De Garis became the second Victorian women to receive a Medical Doctorate from Melbourne University and after briefly practising in remote Queensland went abroad to study in Europe, UK and the USA. Back in Australia, the outbreak of World War One saw De Garis rejected as an Australian Army medico because at that time only nurses could enlist.
However following her soldier fiancé to Europe, where he was later killed, De Garis eventually found her way into frontline service. Joining the Scottish Women's Hospital, she became Chief Medical Officer of a 200 bed tent hospital in Macedonia where she survived bombings, extreme cold and epidemics.
Her indefatigable leadership impulses and urge to address alarming maternal and infant death statistics continued in post war Victoria. Working in the 1920s from Geelong Hospital, De Garis established its first maternity, ante-natal, and post natal wards, and continued researching, publishing and presenting internationally. Crucially, until the 1950s, she would continue redefining standards of care for mothers and their babies.
5. JILL BILCOCK
b.1948  
Nicknamed Billie and a graduate of the Victorian College of the Arts and Swinburne College, Bilcock is probably the highest ranked Australian-born film identity whom you've never heard of.
Yet with a fairy godfather like Fred Schepisi as her first employer, who asked what she would like to do in film - directing, producing or cinephotography, Bilcock found editing her natural milieu. She has editied a staggering number of household-name movies including Moulin Rouge!, Elizabeth, Romeo and Juliet, The Dish, Red Dog and The Dressmaker, and has been nominated for an Academy Award (Moulin Rouge!) and four BAFTAs – three times for Baz Luhrmann films.
Rated as one of the world's go-to editors, Bilcock is so in demand she can choose the projects she works on. Yet her extraordinary career started so innocently with cutting her first five minute film at her kitchen table in Melbourne.
6. FLORENCE McKENZIE
1890 - 1982
Australia's first female electrical engineer was a woman of firsts. To find the apprenticeship position allowing her to gain an Electrical Engineering Diploma, Melbourne-born Florence Violet McKenzie set up an electrical contracting business in Sydney in 1918 to apprentice herself!
In the 1920s McKenzie, as the first female amateur radio licensee, established a Sydney wireless shop, a magazine and a women's electrical association. By the 1930s she was experimenting with the chemistry of television and teaching women electrical and radio technology.
Before World War Two, McKenzie anticipated the demand for communications technicians. She established the Women's Emergency Signalling Corps, convincing the Government that trained women telegraphists should join the navy and airforce, and that they were competent to instruct servicemen in Morse Code.  By the end of the war, 12,000 servicemen had been through her school. Not finished by a long shot, she would continue training civil aviation pilots.
Inducted into the
Victorian Honour Roll of Women 2001
7. TRICIA MALOWNEY
b. 1954
A challenging exemplar that disability is no barrier to great achievement except in the eyes of the ignorant, Tricia Malowney contracted polio at four months, wore callipers until she was 16, was "retired" from police force middle management at 46 but in 2013, in recognition of her indefatigable advocacy for people and especially women with disability, was inducted into the Honour Roll of Victorian Women.
The immediate past president of the Victorian Disability Services Board, Tricia has a formidable history of participation, often at Board level, in a huge number of disability programs, committees and services. Not incidentally, she also has a degree with majors in criminology and anthropology.
Obviously passionate about improving opportunities and the circumstances of disabled Victorians, she concurrently pursues a busy public speaking schedule both locally and internationally.
Inducted into the
Victorian Honour Roll of Women 2013
8. ALMA THORPE
b. 1935
A 'nonperson' until the 1967 Australian Referendum that gave Aboriginals Australian citizenry rights, Gunditjmara woman Alma Thorpe left school at age 12. She grew up to demonstrate the innate fortitude characteristic of so many motivated Aboriginal women. Mother of seven and foster mother to two more, Alma was an early rights activist. In 1973, amongst Victoria's largest Aboriginal urban population in Fitzroy she helped establish the Victorian Aboriginal Health Service to provide medical and dental care, and not incidentally, a significant amount of social welfare.
The service had many offshoots including children's services and a gym and recreation club for urban Aboriginal youth. Alma has also advised and aided the rolling out of other services in Victoria and Australia. A life member of the Aboriginal Advancement League, Aunty Alma is Elder in Residence at the Institute of Koorie Education at Deakin University.
9. CHELSEA ROFFEY
b. 1980
Chelsea Roffey is a female first in football. Breaking through the sweaty glass ceiling, Chelsea is the first and only woman to have officiated in an Australian Football League Grand Final in 2012 in the exacting role of goal umpire.
Another female first, Prime Minister Gillard personally congratulated her. She learnt the skills of umpiring while she was studying clarinet as part of her Bachelor of Music at the Queensland Conservatorium. After five years local apprenticeship in Brisbane she got her break on the AFL Umpires Panel in 2004.
Chelsea is an ambassador for Breast Cancer Network Australia, the Liptember Foundation and the AFL Umpiring Academy. In 2014 she was a guest at the APEC's Women's Leadership forum and awarded a Winston Churchill International Fellowship to explore strategies for influencing social change that enables and encourages girls to be the authors of their own lives.
Saturday 21 May, 2 – 3.30pm
What Feminism means to Young Women
Feminist Collectives are starting to spring up at secondary schools. Be part of the discussion with students as they examine what feminism means to them. Is feminism still relevant? What does it look like to young women? What are its failings? Where do we go from here? Come along and be part of the discussion!
Sunday 22 May, 2 – 3.30pm
Why do we need a Women's Museum?
Why does Australia need a National Women's Museum? What should it do and what will it look like? Join Mary Delahunty of HER PLACE, museum curator Dr Rebecca Carland, feminist writer and academic Dr Natalie Kon-Yu, Dr Nikki Henningham of the Australian Women's Archives Project and Fitzroy High School Feminist Collective, Stella Bridie. Be part of the discussion and have your say.
Tuesday 24 May, 12.30 – 1.30pm
HER STORIES: Lunchtime Talk
Doseena Fergie, 2016 Inductee, Victorian Women's Honour Roll and WoorDungin Founder will share her story of working in indigenous health care, philanthropy and academia, and living across two cultures, Indigenous and white Australia.
Saturday 28 May, 12 – 1.30pm
Where are the Women in Sport?
Sports is another area where women excel, but can go unnoticed and under paid. Hear from women who have broken through the sweaty glass ceiling. What did it take? What are the barriers and how do they overcome them? How have community attitudes changed in recent times in regards to women playing non-traditional sports? Join Danni Roche, Australian Hockey Olympian and a Director on the Board of the St Kilda Football Club and Southern Stars cricketer Julie Hunter to discuss these issues and more.
Sunday 29 May, 2 – 3.30pm
The Impact of Family Violence: What is being done?
Victoria leads the way in responses to family violence. Join Fiona McCormack, CEO of Domestic Violence Victoria, Julie Kun, Deputy CEO, WIRE and Rebecca Smith, a survivor advocate with Safe Steps Family Violence Response Centre and contributor to the Royal Commission into Family Violence. Collectively they will discuss the latest thinking and ground- breaking outcomes from the recent Victorian Government's Royal Commission into Family Violence.
Monday 30 May, 5 – 7pm
Education Professional Development; Primary & Secondary Teachers
Learn about the new "Respectful Relationships" Resource that will soon be mandated in all schools from prep to Year 12 as well as the ground-breaking resource "Fightback: Addressing everyday Sexism in Australian Schools" developed by teacher Briony O'Keefe and Fitzroy High School Feminist Collective.
Tuesday 31 May, 12.30 – 1.30pm
HER STORIES: Lunchtime Talk
Tricia Malowney, Disability Rights Activist, proud feminist and Australian with a disability, will share her personal and professional journey to empower other women with disabilities to take their place as equal citizens in a society where people with disabilities are seen as less than able.