Her Place Women's Museum hosts diverse, engaging public programs and events to accompany exhibitions, and in partnership with other relevant events and organisations.
Keep an eye on our social media channels and check here for the details of future programs and events.
Past public programs
2018: The Women's Mural – Free Onsite Talk
The Women's Mural – Free Onsite Talk 
(Sunday 22 April 2018, 11am at the Women's Mural, Fitzroy)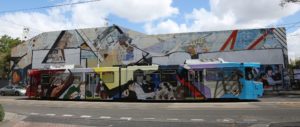 In 2016 one of Australia's most significant feminist murals was defaced. The Women's Mural: Bomboniere to Barbed Wire, in Smith Street, Fitzroy, was painted in 1986 by Megan Evans and Eve Glenn. Measuring 50m x 12m, it celebrates the diversity of women living and working in the communities of Northcote and Preston. Its 'capping' (covering over) by notorious graffiti tagger Nost in February 2016 roused community action, emphasising the need to preserve the history of women's voices and stories in the public realm.
In this free onsite talk, co-artist Eve Glenn with Sally Northfield and the Women's Mural Documentation Project team discussed the origins, ideas and impact of the Women's Mural and stories of some of the women depicted.
This talk was presented as a collaboration between the Women's Mural Documentation Project and Her Place Women's Museum Australia as part of the Australian Heritage Festival.
Find out more about:
The Women's Mural Documentation Project 
2018: The Round Table: Do we need a Women's Museum? A Public Discussion
During the ACCA's major exhibition on feminist art practice, Unfinished Business: Perspectives on art and feminism, various artists, educators and groups were invited to host events at a specially constructed 'Round Table' positioned at the heart of the exhibition. The table played on the idea of the kitchen table as 'a place around which women, artists and activists gather to discuss, debate, create, form allegiances and plan for a more equal future'.
In the lead-up to International Women's Day 2018, Her Place hosted a Round Table discussion asking: Do we need a Women's Museum?
The conversation was convened by Her Place manager Penelope Lee and curator Clare Williamson, and the speakers included Stella Bridie, Dr Natalie Kon-yu and Kate MacNeill.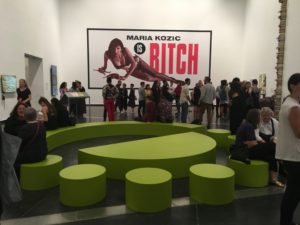 Free Public Event – Everyday Documents and Australian Women's History: a discussion about the challenges of collecting and why archives matter 
(9 November 2017, Melbourne Museum)
Members of the team working on the Invisible Farmer Project, the biggest national study of Australian women on the land, alongside other research and archive experts discussing how and why collecting, documenting, digitising, cataloguing, curating and exhibiting women's archives and stories are important. Audience members were invited to bring along their own stories, documents, images and objects that pay tribute to the extraordinary women of the land in their lives.
Helen Morgan, Her Place Deputy Chair, Archivist and Research Fellow at the eScholarship Research Centre, University of Melbourne, lead a discussion with Museums Victoria's Invisible Farmer Curator, Catherine Forge; University of Melbourne Researcher and Executive Officer of the Australian Women's Archives Project, Dr Nikki Henningham; Ashley Robertson, Manager, Victorian Collections, Museums Australia (Victoria) and Ellie Wallace, postgraduate student who has conducted research into the distributed archival collection of Australian Women in Agriculture.
2017: Her Place: Women of Influence
Women's Histories and Archives: Why They Matter
A discussion on current initiatives around collecting, preserving and sharing of women's contributions and records, and the value of doing this for the wider community. Heather Mutimer and Cr Kate Redwood AM told the story behind the Heather Mutimer Women's Honour Roll and its importance to women and the local Hepburn Shire community. Helen Morgan, of the Australian Women's Archives Project and the Australian Women's Register, articulated the case for keeping women's records and why she became involved with Her Place Women's Museum Australia initiative.
Local Stories, Remarkable Women
Anne E. Stewart shared stories that celebrate the strength, courage and contribution of women from the region, tales of our extraordinary women and their deeds. Anne is a Daylesford-based, intentionally renowned storyteller with the passion, energy and voice to engage any audience. For forty years she has been telling stories and developing a repertoire that celebrates women through story as well as the shared narratives of Australia that honour Indigenous, Celtic, Asian and world stories.
2017: Her Place: Remarkable Women
New Histories of Australian Rural and Regional Women: The Australian Women's Register and the Invisible Farmer Project Workshop
The Invisible Farmer Project is the largest ever study of Australian women on the land. Funded for three years (2017-2019), the project involves a nation-wide partnership between rural communities, academics, government and cultural organisations. Feedback about the amazing women, past and present, who have made a difference to their communities is vital to the success of the project. You can find out more about the project here: www.invisiblefarmer.net.au.
This workshop aimed to reveal the 'hidden histories' and write tributes to women who should be recognised. Participants shared stories and gave public recognition to the extraordinary, creative and vital roles that women have played in agriculture and farm communities across Australia. Participants also gave the project team the opportunity to potentially profile women's stories via future research and in-depth studies.
Women's Network and Victorian Honour Roll of Women Event
The Victorian Honour Roll of Women aligns closely with the vision of Her Place Women's Museum. Established in 2001, the Honour Roll pays tribute to women who have been pioneers in their fields and who have improved the lives of women and the broader Victorian community.
This event aimed to link in and engage with local women's organisations and individual women in order to discuss the plans for a vibrant physical space and online resource that will educate audiences and celebrate women's valuable and distinctive contributions, past, present and future.
2017: Her Place: Women in the West
Everyday Documents and Australian Women's History: Why Archives Matter
A panel discussion about the role of serendipity, family stories and fragments of paper in the writing of history, including so-called 'big picture' academic history. Panellists included Dr Rosemary Francis and Helen Morgan, and was convened by Dr Nikki Henningham, Research Fellow – Australian Women's Archives Project.
In-conversation with Women in the West
An informal lunchtime conversation with the women featured in the exhibition including Halima Mohamed, Paola Balla and Ruth Crow researcher Claire Collie.
Loving Feminist Literature: Decolonising Feminism, Building Solidarity
A night of live readings of bold and irresistible feminist texts by a selection of diverse feminist educators, students and practitioners, including Clare Land, who read from her book 'Decolonizing Solidarity'.
Her Place: Women in the West – Walking Tour
A guided walk through Footscray focusing on the lives of women who have made a difference and contributed to the West. Through spoken word and recounted experiences, walkers heard stories about women of tenacity – leaders, advocates, storytellers and speakers of injustices. Produced by Chantal Wynter.
Building Feminist Communities
This event brought together academics, activist groups and philanthropic organisations to showcase their work and share their aspirations for 2017. Feminists across all sectors had the opportunity to get together, meet others and build partnerships. Hosted by the Victoria University Feminist Research Network, a community of feminist scholars from Victoria University in conjunction with Her Place.