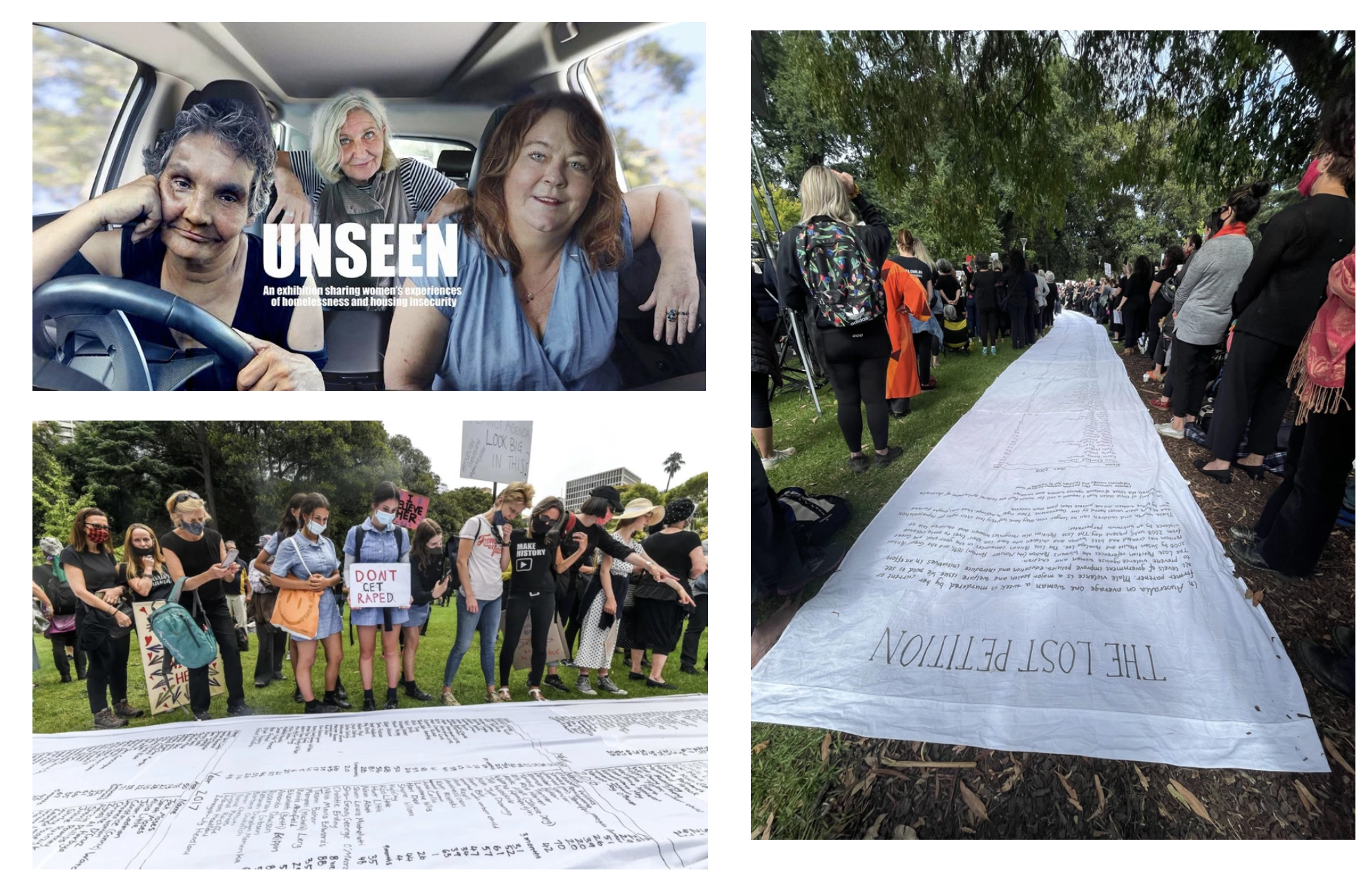 Bringing the Lost Petition and UNSEEN exhibition to Her Voice Festival of Women's Activism 
In Australia
On average, one woman a week is murdered by her current or former partner (ANROWS 2018) 

Domestic and family violence is the number one cause of homelessness (Ahjazeera 2022)

Older women are the fastest growing group to experience homelessness (Census 2016) 
Despite the high incidence and impact of both homelessness and domestic violence on Australian women we are rarely confronted with the reality of these issues. Your support can help us to bring visibility to these issues and enact change by enabling us to display UNSEEN and The Lost Petition to Her Place Women's Museum as part of our Her Voice Festival of Women's Activism Across the Generations. The project will support not only the physical works activation, but the running of workshops and engagement activities that will deepen the public's knowledge of these issues and rally their support for activism.
The Lost Petition is a powerful and harrowing 30-metre long fabric artwork containing the names of women and children who have lost their lives to male violence, from 2008 until present day. The work has been created by Dans Bain and is based on the research of award-winning journalist and anti-violence advocate Sherele Moody of The RED HEART Campaign and the Australian Femicide and Child Death Map. The work has previously been taken to Australian Federal Parliament to bring attention to this important issue. The Lost Petition's title draws reference to Penelope Lee and Susan Hewitt's Sculpture The Great Petition, which commemorates 100 years of the Women's Vote in Victoria. The women and children represented by The Lost Petition can no longer vote, they have unjustly lost their right for representation and to have their voices heard by our Government. The Lost Petition is a platform for the people most affected by domestic abuse, family violence and gendered violence to be heard. The simultaneous intimacy of the work, signing for the dead, and its scale represent the immediacy of the crises and demands that we act to ensure that the petition doesn't get any longer.
To find out more visit: https://www.dansbain.com/the-lost-petition-2021
UNSEEN is a multimedia project created through a partnership between Blur Projects and the Women's Electoral Lobby NSW that shares the hidden experiences of women's homelessness and housing insecurity. UNSEEN offers women who have, or are experiencing homelessness, an opportunity to engage with artists and advocates to generate greater public awareness of the impact homelessness has had or is having on their lives. By sharing their stories, the women provide a first hand insight into the diversity of who finds themself homeless and why. Some women have chosen to remain anonymous and translate their stories in private, while others have chosen to disclose all or part of their identities through creative expressions of song, theater, poetry, sculpture, writing or weaving. The work includes:
The UNSEEN Chrome Car

reflects the hidden nature of women's experiences of homelessness and housing insecurity and how, for others a car is the only safe place to live with their children. Too often these women are told to 'move on' by people living in nearby houses.
The UNSEEN Chrome Tiny House

highlights the Australian housing market's lack of affordable rental housing and tightly targeted social housing with long waiting lists.
Workshops:

Workshops, including artist presentations, have been created in addition to the visual art to bring further light to these issues.
To find out more visit: https://unseen.house/
Expected Outcomes:
To build on Her Place's Women's Homelessness Solutions Forum to continue to elevate the issue of older women's homelessness in both academic and public circles, and to amplify research and personal experience in order to create change.

To draw attention to the links between domestic violence and women's homelessness in Australia.

To publicise the fact that older women are the fastest growing homelessness cohort in Australia and build pressure on policy makers to expand the stock of public housing and emergency accommodation.

To increase pressure on the government to better protect women and children from violence and support survivors.

To provide a physical location for family and friends of people on the Lost Petition to visit the work and push to ensure that their loved ones won't be forgotten or treated as statistics. 

To ensure that Her Place continues to meet its mission of spotlighting current events and increasing knowledge of women's activism across the generations.

To provide an emotive and educational exhibition that engages the public in these pressing issues
Project Data and Reach:
Her Place will connect with partners and participants from our 2022 Her Place Women's Homelessness Solutions Forum, including Housing for the Aged Action Group and Per Capita, to ensure maximum participation and publicity for this project and its outcomes

Exhibition and workshop survey forms will be utilised to collect participant data 

Social media will be leveraged to ensure that lessons from the project are shared widely

Workshops, activities and forums created by Her Place Women's Museum and Blur Projects will be undertaken to increase public awareness, knowledge and participation in these important issues
Link to donate:
https://www.givenow.com.au/hervoice
Sources:
Australia's National Research Organisation for Women's Safety (ANROWS) 2018, Violence against women: Accurate use of key statistics Sydney, NSW: ANROWS.  
Ahjazeera 2022, Australia's 'invisible' homeless women, < https://www.aljazeera.com/features/2021/8/12/australias-invisible-homeless-women>