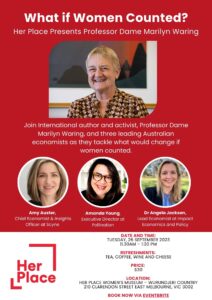 Keeping Her Story Alive – Her Place Women's Museum Presents Professor Dame Marilyn Waring Author of international best seller 'If Women Counted'
We warmly invite you to join International author,  economist and activist, Professor Dame Marilyn Waring and three leading Australian Experts as they tackle 'What would change if Women were counted in Economic Policy' at Her Place Women's Museum on 26 September 2023. 
Dame Marilyn Joy Waring DNZM is a New Zealand public policy scholar, international development consultant, former politician, environmentalist, feminist and a principal founder of feminist economics. Her book If Women Counted (1988) is regarded as the "founding document" of the discipline of feminist economics.
The conversation and panel discussion with International expert Professor Waring will be facilitated by Her Place's Chair, The Hon. Mary Delahunty, g.a.i.c.d. Joining Professor Waring  will be three leading Australian economists:
 Amy Auster, Chief Economist & Insights – Officer at Scyne
 Amanda Young, Executive Director at Pollination
 Dr Angela Jackson, Lead Economist at Impact Economics and Policy
Date and time:
Tuesday, 26 September 2023
11.30PM – 1:30 PM
Price: $30
Bookings (ltd seating available) : BOOK HERE – Eventbrite
Location:
Her Place Women's Museum – Wurundjeri Country – 210 Clarendon Street East Melbourne, VIC 3002
Refreshments:
Some light refreshments of tea, coffee, wine and cheese to be served from 11:30AM, prior to the function.
Womindjeka / wominjeka!
This means welcome in the languages of the Traditional Custodians of the area now called Melbourne. Her Place Women's Museum Australia respectfully acknowledges the Traditional Custodians of the land, the Bunurong Boon Wurrung and Wurundjeri Woi Wurrung peoples of the Eastern Kulin Nation and pays respect to their Elders past, present and emerging.
Thank you to all who supported – Fighting with our Tongues – Book Launch and Panel Discussion a Her Place Museum and TOGETHER YES event.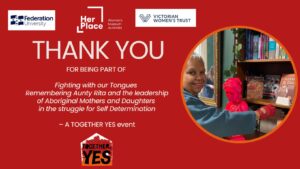 A heart felt thank you to the wonderful speakers, organisers, volunteers and guests who passionately participated in Fighting with our Tongues: Remembering Aunty Rita and the leadership of Aboriginal and Torres Strait Islander Mothers and Daughters in the struggle for Self Determination – A TOGETHER YES event.
This moving event presented by Her Place Museum in close collaboration with Federation University and The Victorian Women's Trust.
We were honoured to host Dr. Jackie Huggins AM, author, activist and The Drum commentator for the celebration of the 30 year anniversary reprint of her award winning book 'Aunty Rita' a historic account of the extraordinary life of her mother.
To begin the event, Jackie was the first author to officially donate a signed copy of her book to our new space – the  Her Place Feminist Reading Room.
Deepest thanks to powerful First Nations Women leaders Jackie Huggins AM, Amelia Telford and Belinda Duarte who spoke of the women who inspire them, ways they are fighting injustice with a spirit of love and kindness and of the future of reconciliation and self determination they envision.
A sincere thank you to event organisers and panel discussion moderators – Tanja Kovac – Director Her Place Museum and Maria Dimopoulos AM – Adjunct Senior Research Fellow, National Centre for reconciliation, Truth and Justice.
For Fighting with Our Tongues – Her Place Directors Barb Jennings, Penelope Lee, Mary Attard and Tanja Kovac were also honoured to have the opportunity to share with guests the past – a curated collection of some of our treasured archives and a vision of the future – the beginnings of our new feminist reading room.
We thank  Federation University, Victorian Women's Trust, Emilies List, and Ziggy loves Charlie for contributing to the displays and for the generous assistance of volunteers on the day.
Copies of Jackies signed books and other important works by First Nations Authors were available for guests to buy at the event thanks to the wonderful pop up by Book and Paper Book Sellers.
Beautiful Indigenous Fusion Catering was provided by PAWA Catering.  This First Nations business is led by visionary entrepreneur Niyoka Bundle and her husband Vincent Manning.
This event was also made possible by  personal donations by Tanja Kovac, Barb Jennings and Maria Dimopolous. Thank you each for your generosity.
We thank Assunta Morrone for the gorgeous Ziggy Loves Charlie handmade gifts to guests and Her Place.
To find out more about how you can support the Women for YES campaign and sign the open letter of support visit – TOGETHER YES 
To stay updated on future Her Place events, projects and exhibitions, join our mailing list HERE