Australia's first interactive state-wide map spotlighting locations commemorating women
Finding Her is a new digital resource created by Her Place Women's Museum in
partnership with Geographic Names Victoria, Gender Equity Victoria  and Just Gold Agency that showcases
significant stories of Victorian women and gender diverse people.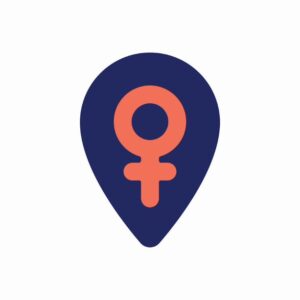 Finding Her is a project that aims to connect physical sites of recognition (statues, murals, place names, monuments) to the stories of the women being honoured.
The "digital map" connect these physical sites to digital stories/biographies using QR codes.
Finding Her is proudly supported by the Department of Transport and Planning.
Just a few of the 60 women who feature in Finding Her are: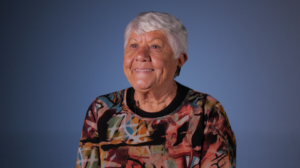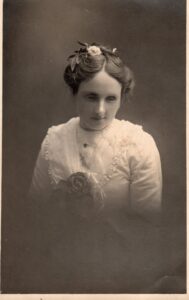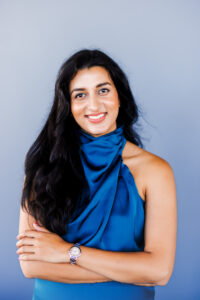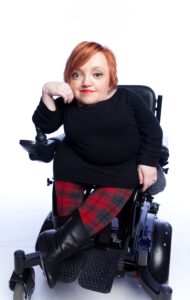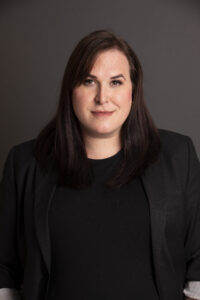 A few of the gorgeous sites featured in Finding Her
that you can enjoy finding include:
Gardens and Reserves
Murals
'Nanny' Nora Charles and  Aunty Margaret Tucker (MBE) -The Shepparton Aboriginal Street Art Project
Monuments
Headstones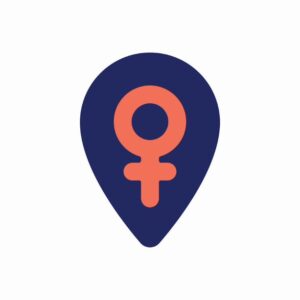 To support this groundbreaking project and help more women's stories be seen and heard
DONATE HERE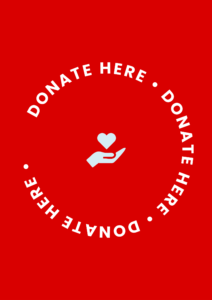 THE FINDING HER LAUNCH
On March 28 we celebrated the launch of the first phase of www.findingher.org.au
A collaboration of individuals, families and descendants, authors, researchers, advocates and organisations working together to Honour Victorian Women's Stories
We invite you to scroll through some gorgeous moments from the Finding Her Launch captured by Damien Vincenz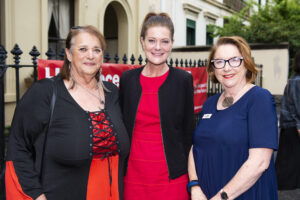 Left to Right - Barbara Burns, The Hon. Sonya Kilkenny, The Hon. Mary Delahunty G.A.I.C.D Her Place Chair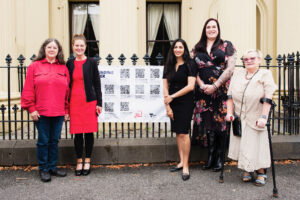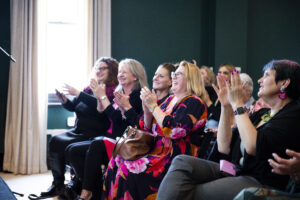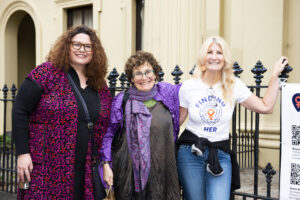 Womindjeka / wominjeka!
This means welcome in the languages of the Traditional Custodians of the area now called Melbourne. Her Place Women's Museum Australia respectfully acknowledges the Traditional Custodians of the land, the Bunurong Boon Wurrung and Wurundjeri Woi Wurrung peoples of the Eastern Kulin Nation and pays respect to their Elders past, present and emerging.
Latest News & Events
More Details Here: https://www.weareunion.org.au/zelda_opening
CREATIVE RESILIENCE – A PUBLIC ARTWORK BY NGARDANG GIRRI KALAT MIMINI (NGKM)  has been unveiled at the QVWC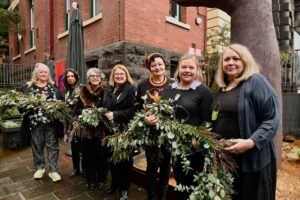 Pictured L-R: Janet Bromley, Glenda Nicholls, Trina Oogjes-Dalton, Natalie Hutchins MP, Georgia Macguire, Annie Brigdale and Lorraine Brigdale.
We were honoured to be present at this significant moment in the History of Reconciliation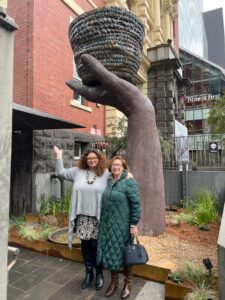 Pictured Her Place Director Tanja Kovac and Her Place Chair The Hon. Mary Delahunty at the opening of Creative Resilience
CREATIVE RESILIENCE
NGKM is a collective of First Nations women and trans diverse artists from across Victoria. The artwork commemorates and celebrates stories of Aboriginal women from South-Eastern Australia.
Creative Resilience was commissioned by the Queen Victoria Women's Centre Trust as part of commitments made to Reconciliation in its Reconciliation Action Plan. The fabrication of the work has been supported by the Victorian Government as part of the Victorian Women's Public Art program (VWPA). The forearm and basket depicted symbolise the strength and creativity of Aboriginal women in South Eastern Australia who have supported and nurtured families and communities through culture over tens of thousands of years.
The VWPA supports the development of permanent public art to examine the significant and diverse contributions women have made to Victoria and to share those stories with the broader community.
Creative Resilience forecourt will be open during the Centre hours Mon-Fri 9AM-5PM.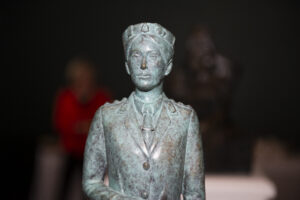 Find Her –  The new Statue of World War I surgeon Dr. Vera Scantlebury Brown has been unveiled in home town of Linton
The sublime sculpture of trailblazing Dr. Vera Scantlebury Brown  has been officially unveiled!
The statue of Vera Scantlebury project was led and driven by Linton  & District Historical Society, created by Artist Lucy McEachern with support from The Golden Plains Council and the Victorian Government's Victorian Women's Public Art Program.
Dr. Scantlebury Brown's memorial is more than just a commemoration of one woman's achievements, but part of a rousing attempt to bring equity to monuments across the state.
Dr Scantlebury Brown's is the 11th statue erected of a woman in Victoria, while there are nearly 600 statues of men, horses, and dogs in the state.
Across Australia, just 4 per cent of all statues are of women.
Read about unveiling of Dr. Vera Scantlebury Brown Here: The Statue of World War 1 Surgeon Dr. Vera Scantlebury Brown is unveiled in home town of Linton – ABC news
We're excited to share the news that nominations for the 2023 Victorian Honour Roll of Women are now open.
Each year, the Honour Roll acknowledges the achievements of women across the state – celebrating their remarkable leadership, unique skills and determination to forge a brighter path for their communities and society.
Too often women's achievements and hard work go unrecognised. Help us to fix this by shining a light on yourself, or another remarkable woman in your life, by completing a nomination today!
The Honour Roll consists of four categories, and is open to any Victorian woman, including those who are trans, gender diverse or sistergirl, who has made a lasting and significant contribution at a local, state, national or international level.
This year's inductees will join over 700 remarkable Victorians who have been inducted to the Honour Roll for their services to education, science, arts, environment, law, social justice, family violence prevention, research, health, media and beyond.
Posthumous nominations and self-nominations are welcome.
Nominations close Monday 29 May 2023.
Learn more about the categories and how to nominate someone here: www.vic.gov.au/victorian-honour-roll-women-program.
If you have any questions, please email [email protected]dffh.vic.gov.au.
Good luck!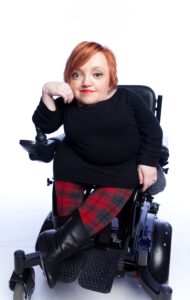 A bronze statue of disability advocate Stella Young has been unveiled in her home town of Stawell – This monument is one of the public works commemorating Victorian Women of Significance that we recommend you find this Easter!
Read about the new monument Here:
https://www.abc.net.au/news/2023-03-30/stella-young-disability-statue-unveiled-stawell-bronze-/102148674
MARCH 28 2023
FINDING HER IS LAUNCHED
Australia's first interactive state-wide map spotlighting locations commemorating women has been launched today at Her Place.
Just one part of Put Her Name On It, a project aimed at making women's stories, lives and achievements visible, Finding Her allows visitors to follow the Find Her Trail of statues, significant places and public art installations that celebrate the achievements of Victorian women.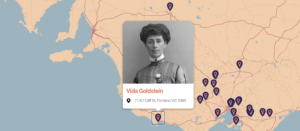 OUR FINDING HER LAUNCH EVENT IS NOW FULL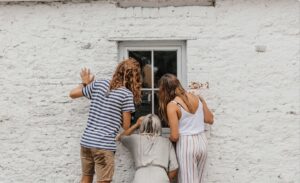 Due to un-precendented demand our Finding Her Launch Event is now full and RSVP's are closed.
We look forward to seeing you at the event – for those who are unable to attend more will be revealed soon…. 
2021-22- Her Place Annual Report FINAL (1)

MARCH 7 2023
Governor's Lecture Series: A Healthy Future for Girls and Women
On the eve of International Women's Day – Her Place is honoured to be participating in the Governor's Lecture Series: A Healthy Future for Girls and Women Ballroom, Government House Victoria, 7th of March 2023.
The Governor of Victoria, the Honourable Linda Dessau AC CVO, and Mr Anthony Howard AM KC are hosting a public health lecture on women's health at Government House Victoria on the eve of International Women's Day.
The event will open with remarks by the Governor, followed by a discussion moderated by the Royal Women's Hospital's Chief Operating Officer Lisa Lynch on the health of girls and women, including menopause, fertility, gynaecological conditions, endometriosis and mental health.
Panel speakers:
Professor Marie-Paule Austin: Head of Psychiatry at the Royal Women's Hospital
Dr Tanaka Dune: Pelvic floor expert, academic, clinical surgeon and educator
Associate Professor Michelle Peate: Fertility and reproductive health expert
__________________________________________________________________________________________________________________________________________
News from Ronniet Milliken, President –  National Council of Women of Victoria Inc.
In 2022 the media reported on the Plan International Australia Survey of 1000 young women in Australia  that
Three quarters of young women voting for first time in the federal election do not believe Australian politics is an equal space for women and people of colour – Plan International Australia
The data is part of Represent Us, a report launched on 9 May 2022 by Plan International Australia the charity for girls' equality that laid bare the "white boys club" that is the Canberra bubble and includes powerful recommendations on how we can make Parliament more equal and safe, right now.
Interested to hear directly from young people and consider opportunities for NCWV to support same – we invited the Plan International Australia Team to speak with us ahead of IWD 2023.
We are delighted Susanne Legena CEO and members of her team including Youth Activists, will present at our twilight February Council Meeting in person at Ross House and by ZOOM:
Thursday 2 March 2023 at 5pm for 5:15 pm Speaker
We know you will be interested to hear directly from these young women about the Survey of 1000 young women,  the YAS programs, concerns and achievements including –
These topics resonate with our members and their concerns – from FGM eradication to safety online and in the city.
In 2022/23 National Council of Women Victoria is celebrating 120 years of advocacy since our foundation in March 1902.
Earlier in 2022 we heard from speakers on democracy with a gender lens including Professor Marilyn Lake AO, Dr Judith Smart AM, Mannie Kaur Verma, Director YWCA Victoria, Dr Vanessa Teague, and political mentor Carolyn Ingvarson.
Since August 2022,  we have been looking FORWARD – focusing on girls and young women who are the state and nation's future – about
gendered stereotypes in children's literature
Girl Guides Victoria developing curious and courageous young women leaders.
MVMV secondary students thoughts on the role of Treaty in achieving Reconciliation
Trades Women Australia encouraging girls and women to take up  trades that are non-traditional for women.
While there have been substantial improvements in the lives of women and girls across urban, and regional Victoria and Australia, we are clearly NOT YET THERE including in regards to women's economic equality and security,  and  sexual harassment and violence against women and children.
Best regards
Ronniet Milliken, President
National Council of Women of Victoria Inc.
Founded in 1902- celebrating 120 years in 2022
Find out more:  www.ncwvic.org.au
Her Place Recommends
Craig Foster AM to present the 2023 Joan Kirner Social Justice Oration at Communities in Control
Craig Foster is a former Socceroo, a respected broadcaster, a social justice advocate and a human rights campaigner.
Craig represented Australia in football on 29 occasions, and was the 40th captain of the national team. Following his retirement, Craig moved into broadcasting, and quickly became one of Australia's most respected sports broadcasters, with an 18-year triple-Logie-winning career with Australia's multicultural broadcaster, SBS.
Beyond football, Craig has been a fierce advocate for human rights, working on campaigns including #SaveHakeem, #GameOver and #RacismNotWelcome. He is a member of the Australian Multicultural Council under the Department of Home Affairs, an ambassador for Amnesty Australia, a member of the Affinity Intercultural Foundation advisory board, and an ambassador for Sydney's Addison Road Community Centre.
Craig's list of awards and recognitions is long, and they include being recognised by the Financial Review as a 'True Australian Leader' in 2019, being named Australian Father of the Year in 2022 for human rights and humanitarian work that has affected kids from many different cultural backgrounds, and being named the NSW Australian of the Year for 2023.
Today, Craig advises on athlete activism for some of Australia's most prominent sportspeople and is an Adjunct Professor of Sport and Social Responsibility with Torrens University.
The Joan Kirner Social Justice Oration will take place at Communities in Control, May 29 & 30 in Melbourne. Online and in-person tickets are available.
Don't miss this oration. Register now.
The Joan Kirner Social Justice Oration was first delivered in 2011 and continues today.
Every year at the Communities in Control conference, a different community leader is invited to speak at length on a topic which is important to Australian society. Each speaker brings their own unique perspective and passion.
Find out more about the oration, and watch past presentations, here.
Joining Craig Foster AM at Communities in Control:
Emeritus Professor Julianne Schultz AM, author, academic, thought leader
Marlikka Perdrisat, emerging leader and Martuwarra Fitzroy River Council volunteer
Holly Ransom, leadership expert, speaker and author
Dr Simon Longstaff AO, ethicist, philosopher, Ethics Centre CEO
Dr Lachlan McIver, global health expert, environmental advocate, author
Antoinette Lattouf, broadcaster, columnist, author and diversity advocate
Dr Anjalee de Silva, expert in anti-discrimination and free speech
Dr Michelle H Lim, CEO, Ending Loneliness Together, clinical psychologist.
Plus many more of Australia's biggest movers and shakers.
The event will take place in Moonee Ponds, Melbourne, across two days on May 29 and 30, 2023. You can join us in person (just $395) or online ($295), and discounts for group bookings are available.
We cannot wait to see you there.
Regards,
The Our Community team.
Controlling Choice: Reversing Roe v Wade and the importance of access to Abortion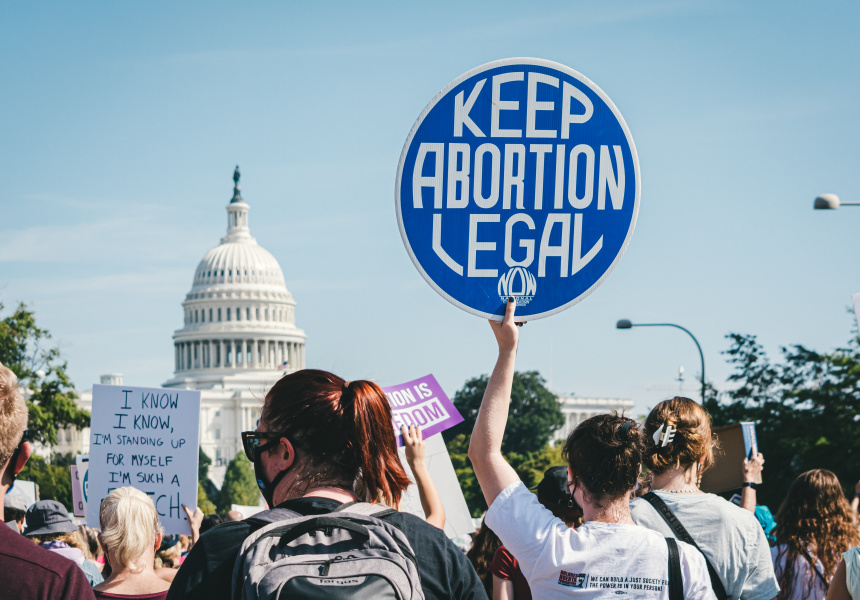 The dissolution of Roe v Wade in the United States of America has sent waves of outrage and grief across the globe, marking a seismic shift backwards in what should be an inherent human right. The overturning of the 1973 milestone legal case which made abortion a constitutional right in USA, has meant that the decisions of legality and access of abortion now defer to individual states governments. Read the full piece here.
Give Me Shelter – The long-term costs of underproviding public, social and affordable housing.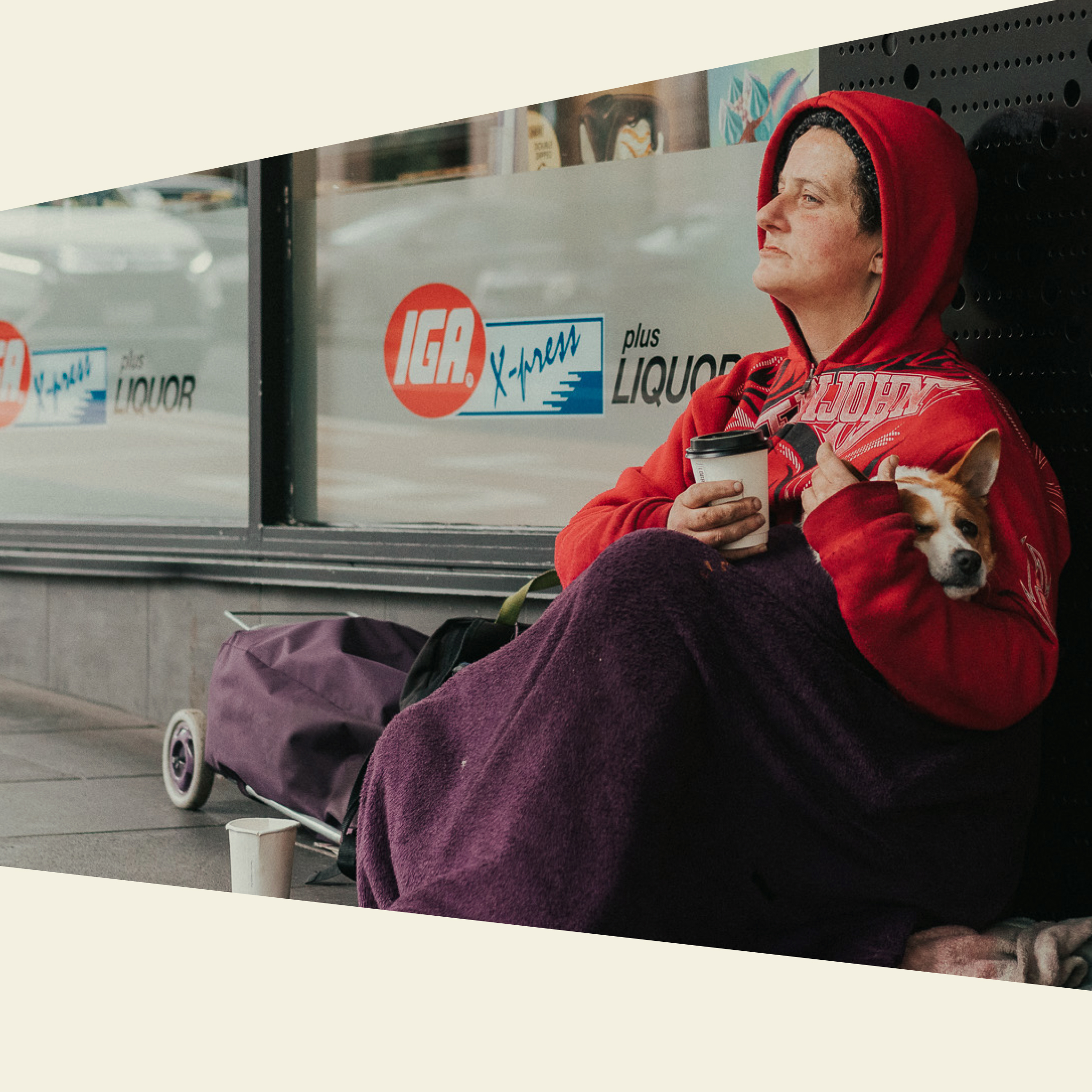 Housing All Australians launched Give Me Shelter – an economic report into the long-term costs of underproviding public, social and affordable housing. We're proud to have partnered with Housing All Australians to deliver this study. As an Australian first, Give Me Shelter outlines the long-term economic costs to Australia if we do not house all Australians. Read more here.