Be Part of Groundbreaking Change...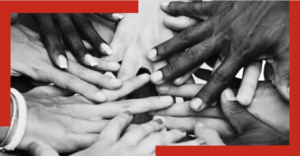 Join us as we leap forward in women's Commemorative Justice.
Her Place's long-term vision is to create a permanent public space that honours the achievements of women, through exhibitions, public programs, education resources and an archive.
We need you help to continue to grow!
Your donations support us to:
Put more women on the Finding Her map!
Curate new and topical exhibitions in our new space at Clarendon Terrace, profiling the histories and stories of women, past and present
Continue to develop educational resources for schools
Deliver public programs and events in locations across Victoria
Individuals and organisations who make a donations over $50 will become a Friend of Her Place

.

As a Friend of Her Place you will join a group of like-minded supporters of gender equality.
With your support, Her Place can continue to discover, share and celebrate more incredible Australian Women and advocate for their visibility in our history.
Every tax-deductible contribution will ensure that women's voices are seen and heard.
Her Place is a registered Not-for- profit charity.
All donations of $2.00 or more are tax deductible.
Please donate today.