UNITE AT HER PLACE TO END VIOLENCE AGAINST WOMEN AND CHILDREN
UNITE AT HER PLACE TO END VIOLENCE AGAINST WOMEN EVENT
A few of the many heartbreakingly beautiful and evocative moments of our Unite to end Violence against women and children event captured by the talented Lauren Murphy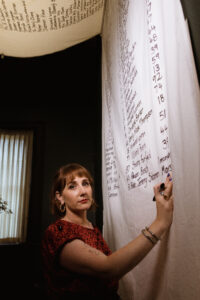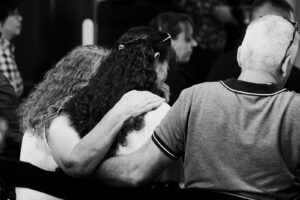 UNITE AT HER PLACE TO END VIOLENCE AGAINST WOMEN AND CHILDREN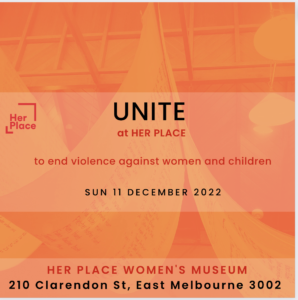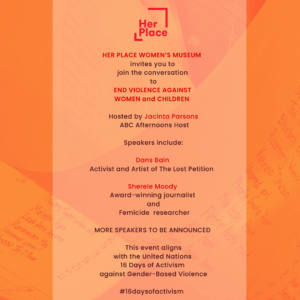 UNITE AT HER PLACE!
Her Place Women's Museum warmly invites you to join the conversation to  END VIOLENCE AGAINST WOMEN and CHILDREN .
Join us to acknowledge, listen to and support survivors of violence and families of victims of violence.
Hosted by Jacinta Parsons – ABC Radio Melbourne Afternoon host and writer
Speakers Include: Dans Bain – Activist and Artist of The Lost Petition
                                  Sherele Moody – Award-winning journalist and Femicide researcher
DATE: Sunday 11 Dec 2022
TIME: 11.30am
ADDRESS: 210 Clarendon Street East Melbourne 3002
Guests at this event will also be able to experience the powerful Lost Petition exhibition,  which comprises a 30-metre-list of the names of women and children lost to violence since 2008,
the heartbreaking stories of women and children lost to violence;  audio interviews with family members of victims lost;
and current Australian femicide and child death research examining how violence impacts women and children across our nation.
We also provide a respectful space to leave candles, letters and red hearts as tribute to those lost to violence.
BOOKINGS:
Unite at Her Place is a FREE event with morning tea provided.
Our Capacity for this event is limited to 60 people.
Reserve your seat here:
https://www.eventbrite.com/e/unite-at-her-place-to-end-violence-against-women-and-children-tickets-477015505217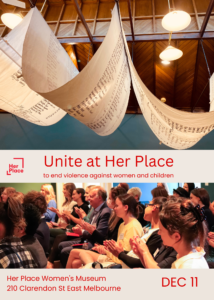 This event aligns with the United Nations 16 Days of Activism against Gender-Based Violence
#16daysofactivism
HER PLACE RECOMMENDS – UNSEEN HUB – PARRAMATTA – NOV 24 – NOV 27, 2022