Keeping Her Story Alive – Her Place Women's Museum Presents Professor Dame Marilyn Waring Author of international best seller 'If Women Counted'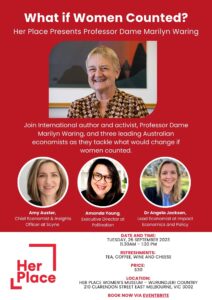 We warmly invite you to join ground-breaking economist and activist, Professor Dame Marilyn Waring and three leading Australian Economists as we tackle how  the world would change if Women were counted at Her Place Women's Museum on 26 September 2023. 
Dame Marilyn Joy Waring DNZM is a New Zealand public policy scholar, international development consultant, former politician, environmentalist, feminist and a principal founder of feminist economics. Her book If Women Counted (1988) is regarded as the "founding document" of the discipline of feminist economics.
The conversation and panel discussion with Professor Waring will be facilitated by Her Place's Chair, The Hon. Mary Delahunty, g.a.i.c.d. Joining Professor Waring will be:
Amy Auster, Chief Economist & Insights – Officer at Scyne
Amanda Young, Executive Director at Pollination
Dr Angela Jackson, Lead Economist at Impact Economics and Policy
Date and time:
Tuesday, 26 September 2023
11.30PM – 1:30 PM
Price: $30
Bookings (ltd seating available) : BOOK HERE – Eventbrite
Location:
Her Place Women's Museum – Wurundjeri Country – 210 Clarendon Street East Melbourne, VIC 3002
Refreshments:
Some light refreshments of tea, coffee, wine and cheese to be served from 11:30AM, prior to the function.