Do you have a passion for Women's rights, social justice and the Arts? 
HER PLACE IS CURRENTLY SEEKING VOLUNTEERS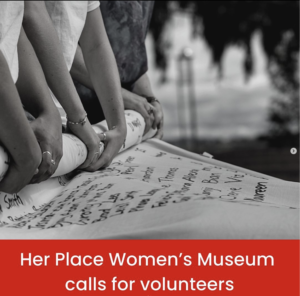 If you are able to donate your time, Her Place would love to have your help!
Volunteers play a vital role in the Life of Her Place and are valued members of our team
We are currently seeking volunteers for THE LOST PETITION RETURNS exhibition
We seek volunteers who can assist audiences to engage with this important work Fridays, Saturdays and Sundays for 2 - 4 hours
Volunteers will be provided with training and induction information about the exhibition & Her Place Women's Museum Australia.
You will be working with a Her Place team member
Please be aware that the content of the exhibition focusses on violence against women and children and may be triggering for some.
Support  resource material and a quiet room with tea and Tim Tams is available for audience and volunteers.
If you have any questions regarding the application process or volunteering please contact [email protected]
Volunteers will need to complete a Volunteer Application Form (below)
Email: [email protected]
Address:
208-210 Clarendon Street,
East Melbourne
3002