An Australian First – FINDING HER – puts Women on the map
Australia's first interactive state-wide digital map spotlighting women's commemoration, Finding Her at HerPlace Museum has recently been launched at Her Place Women's Museum.
A ground-breaking project, Finding Her is a virtual and physical tour using QR codes and an interactive map directing you to names and places of outstanding women.
You'll discover the stories behind the names, including videos and photographs of women activists, pioneers of industry and significant contributors to Victorian public life.
Finding Her is just one part of Put Her Name On It, a project aimed at making women's stories, lives and achievements visible.
A collaboration between HerPlace Women's Museum, Gender Equity Victoria, Just Gold and the Victorian Government's Geographic Names Victoria, Finding Her enables people living in and visiting
Victoria to follow the Finding Her Trail of statues, significant places and public art installations that celebrate the achievements of Victorian women.
"Women and gender diverse people have made a significant contribution to Victoria, in politics, science, community, the arts, business and sport.
But it's not always been easy to find a street name or a statue that records the achievements of women.  Now, with the launch of Finding Her, we're changing all of that," said the Honourable Mary Delahunty, Chair of HerPlace Women's Museum.
Finding Her includes directions to the new Stella Young Remembered Statue, a seat for suffragist Vida Goldstein in Portland, a statue for philanthropist Dame Elisabeth Murdoch at Frankston Art Centre and a statue for Kurnai matriarch of Gippsland, Kitty Johnson (also known as Youwali or Kitty of Cunningham).
These are just a few of the stories of the 60 plus women identified across 35 sites.
"Increasing gender equal representation and recognition is an important part of our work to create safe and respectful spaces for all. Finding Her is about making visible the full diversity of our society
in our public spaces. It's a project for gender equity and reminds everyone that our community is shaped by people of all genders.," said Julie Kun, Chair of GENVIC.
Finding Her has been supported with dedicated funding and commitment to gender equity and commemorative justice by Geographic Names Victoria and the Victorian Government.
"We are lucky to have a Gender Equality Act in Victoria, making projects like this possible," said Ms Delahunty, "We can get out and visit sites in our hometowns and tourists can be drawn to another innovative trail of significant historic, cultural and public art sites.
We also invite schools to use this map in history classes."
This is just the beginning. The digital map is designed to be updated as new sites of significance are created. Community groups, local councils, historical societies and anyone with an interesting story
to share of women's achievements in Victoria can apply for inclusion on the Finding Her Map through the website.
THE LOST PETITION EXHIBITION – EXTENDED DATES – DEC 2 to DEC 11 2022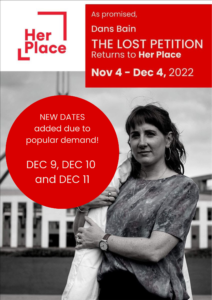 Content Warning: This project mentions violence against women and children.
This project also contains the names of some Indigenous women and children lost to male violence.
The Lost Petition is a powerful and profoundly moving multi-media exhibition, focused on the vital need to end violence against women and children.
Created by artist and activist Dans Bain, in collaboration with award winning researcher and journalist  Sherele Moody of the The RED HEART Campaign,  at the centre of this arresting exhibition is The Lost Petition Artwork – a
30-metre list of names lost to gendered violence since 2008, written on bedsheets.
The exhibition also features a peaceful reflective installation called The Living Room; photos and stories of women and children lost to violence and the voices of their families; a special red heart tribute to the 75 lives lost this
year; and interactive elements for visitors to engage with.
In displaying the Lost Petition at Her Place, we hope to strengthen the work of activists, families and survivors and stop more names from being added to this list. 
Exhibition visiting hours are: 
Fridays, Saturdays and Sundays
11am – 3pm
Nov 4 – Dec 11, 2022
On Dec 11 – We warmly invite you to a free public forum
UNITE AT HER PLACE
to end violence against women and children 
Find Out More here : https://herplacemuseum.com/events/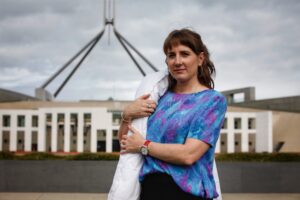 Artist Statement – Dans Bain :
In Australia on average one woman a week is murdered by her current or former partner.
We need to see all levels of government improve policies, education and introduce initiatives in an effort to prevent violence against women and children.
The Lost Petition commences in the year 2008, the same year that the 'Great Petition' by Susan Hewitt and Penelope Lee was created and pays homage to the 'Women's Suffrage Petition' from 1891.
It currently lists 1023* women and children who have lost their lives to male violence from 2008 until present day, however the list is growing as this project is ongoing. The Lost Petition also recognises women and children lost to violence by an unknown perpetrator.
These women and children can no longer vote, they have unjustly lost their right for representation and to have their voices heard by our Government.
Their right to suffrage, that was fought for and won by brave women, did not protect them from male violence.
In recent news we have heard the announcement of a National Plan to End Violence against Women and Children 2022 to 2032, on behalf of these stolen
lives I request a call for immediate action from the Federal Parliament of Australia and State governments to address the issue of violence against women and children.
I call on the Australian people to not be bystanders in this crisis, learn the red flags, speak up.
*the total on the list is current as of 31/10/22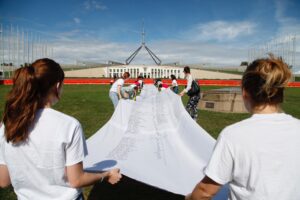 If you need support, please call:
● 1800 Respect National Helpline: 1800 737 732
● Women's Crisis Line: 1800 811 811
● Wire: 1300 134 130
● Kids Helpline: 1800 55 1800
● Men's Referral Service: 1300 766 491
● Mensline: 1300 789 978
● Lifeline (24-hour Crisis Line): 13 11 14
If you wish to assist this project and other Her Place projects that give visibility and voice to those who most need it, every small contribution is appreciated: