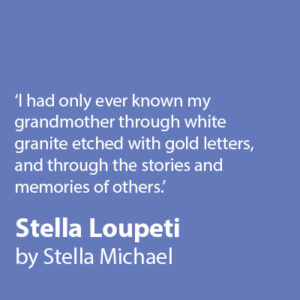 Stella Loupeti
by Stella Michael
Before they left the village, a prickle of hedgehogs killed Stella's geese. I had only ever known my grandmother through white granite etched with gold letters, and through the stories and memories of others.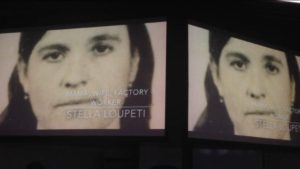 Stella and Panos, in their early 30s, with their daughters, Maria, 4, Helen, 2, left Greece for a new life in Australia. From Agios Petros, Lefkada to Piraeus, Athens it took them eight hours on the road. To get to Australia by ship – through the Suez Canal, across the Indian Ocean, stopping in Fremantle before finally reaching Port Melbourne – it took one month at sea. They left on the S.S Patris in August 1963. After WWII, Greece couldn't provide for them and Australia needed migrants. Panos felt betrayed by his country and Stella did not want to leave her home, or her mother. She always said that even though they were poor in the village, they were happy. At the Port of Piraeus, Maria was collecting scraps of paper on the ground. A man observing her told Stella "your daughter will grow up to be a teacher."
During their ship journey, Maria somehow climbed on the rails and almost fell overboard, a fellow passenger managed to catch her. She has no recollection of this but, as an older child, would often wake up in the middle of the night fearing a pitch-black ocean. Stella never forgot it; she felt as though she had been exiled to the other side of the world and almost lost her child in the process. The only memory Maria has is an image of lots of young men and women running around, dancing, being happy and throwing spaghetti at each other. Some were dressed as Poseidon, god of the sea. What she remembers is the line-crossing ceremony, passengers celebrating making it over the equator. When they got to Port Melbourne it was land, horns, lots of people, streamers and finally, their arrival. They got into a car, her uncle's Holden.
The first time I went to my mother's village, I walked the steep, narrow road, a ghost child of my namesake. I was seven years old and had a tendency to answer 'ναι' to everything I didn't understand in Greek. We were walking down the mountain path, my cousins and I, when a frail elderly woman, wearing a black headscarf and black dress, stopped me. I have a memory of what she said, like a whispering vision, grabbing and hunching over me.
«Στέλλα, που ήσουν;»

"Stella, where have you been?"

«Στέλλα, μου έλειψες.»

"Stella, I've missed you."

«Στέλλα, που πήγες;»

"Stella, where did you go?"

«Στέλλα…»

"Stella…"
I was confused about how she knew my name and why she kept saying it. Later, I discovered I was not who she was referring to. The news blew in the thick summer heat; the ghost of Stella Loupeti roamed Agios Petros.
When they first arrived in Australia, they stayed with Panos' brother, along with two other families that had just migrated. They lived in a room in his East Brunswick house for the first few months of their arrival. Stella began work at a shoe factory; Panos worked during the day at the factory and nights at Repco. They wanted to buy a house of their own. Not trusting her sister-in-law to look after them, Stella locked Maria and Helen in their room, so they wouldn't wonder off  - latchkey children.
One night Panos came back from his second job to find Stella on the park bench with her arms around young Maria and Helen. His brother had thrown them out because Helen had fought over a doll with her one-year-old cousin. That is when they bought their first and only home, as quickly as possible, just across the road on Park Street.
The Australian neighbours did not take to these new residents. Some of their children would knock on the girl's bedroom window in the middle of the night, sometimes yelling profanities. When a rock was thrown and glass smashed, Panos put up bars on all the windows.
Every night Stella would tell stories of the village to her daughters. She told them about the time when she was young and a scorpion bit her. Her mother caught the scorpion in order to crush and boil it. She then gave the tonic to Stella and the other children. This is what the women of the island did, to prevent their children from getting sick or dying from the scorpion's sting. It was said to build their immunity and to have lasted for life. Stella would recite demotic songs off by heart and knew the stories of Odysseus and so on, the German occupation of her village and stories of Hitler's gassings.
Education was not for the girl's of the village; their duties were in the home and in the fields. Panos got to complete primary school but started work at seven-years-old in the village oil mill. Stella only got to grade three.
When Maria began primary school at Brunswick East, the teachers locked her, along with other migrant children, in a classroom until they learnt to speak English. They changed her name to 'Marie' and Helen's to 'Ellen'. "That's your new Australian name," they told them. They lived a double life, Greeks at home and new Australians at school.
One night at Greek school the teacher sent Maria, 10, home for not bringing in a Mother's Day card. The walk from Drummond Street to Park Street is twenty minutes. Stella was in the kitchen when Maria knocked on the door. She was shocked to see her on her own. They didn't go inside; instead Stella took her hand and marched her back. She walked into the classroom and slapped the teacher across the face. He was stunned.
«Τι να την κάνω την κάρτα αν πάθαινε κάτι το παιδί μου;»

"What am I going to do with a card if something happens to my child?"
Stella waited outside the classroom until the lesson finished. For Stella, education was a priority for her daughters.
Across the road from their house lived Apostolis, who, like many migrants, would often rent out their house to people in need. The first time they encountered Indigenous Australians was when an Aboriginal family moved in. There was a young girl who always had with her a pink comb. The neighbourhood children, who terrorised Maria and Helen, stole the comb from the girl. Maria chased after them and gave it back to her.
Stella would often offer up Maria as the translator of the neighbourhood. This meant reading people's letters, bills, going with them to the doctors. Stella sent Maria, 13, with her friend Nicky to the hospital. Nicky was three-months pregnant and had contracted German measles. It was up to Maria to covey to her that if she did not abort the child it could be born with deformities. Nicky was hysterical.
In 1974, Panos and Stella's brother took her to hospital for a mastectomy. When Stella came home, Maria caught her weeping in her room. They never mentioned the word 'cancer'; they only understood that there was a lump that had to be removed. In 1983, Stella was diagnosed with secondary cancer. That was when Maria realised that that tumour was malignant.
The second time I went back to the village was when my grandfather died. I was nineteen-years-old and on a mission to find a piece of him wherever I went: in the people that looked and sounded like him – in the first home of my mum's, a pile of stones – in the church where he and my grandmother married, baptized their daughters and had his memorial – in the olive groves – in the cemetery where my great-grandparents are buried…  I was longing for ghosts and desperate to hold onto them.
We visited my grandmother's sister, Eleni, in their family home. I was sitting amongst my cousins, my aunt and my mum, tuning out of the conversation, when I caught her staring at me. I smiled shyly and she smiled back, but her gaze was inexorable. Suddenly, everyone went quiet, confused by her lack of presence in the conversation, after all, we had come specifically to visit her.
«Για δες αυτή,»

"Look at her," she said to us,

«κοιτά πως μου χαμογελάει, πως με καρφώνει με το βλέμμα της αδερφέις μου.»

"look how she smiles at me, staring back at me with my sister's eyes."
I shuffled embarrassedly in my seat as everybody turned to examine me.
The night she died, Stella told Maria that she had been a good and caring daughter. Stella was fifty-three-years-old and the first in the neighbourhood to not only die, but to die of breast cancer.
Both my cousin and I are named after her, the first daughters of Maria and Helen. It's a name that has a mark in both Greek and English popular culture. From the famous line in the 1955 Greek film 'Στέλλα', when jilted fiancé Miltos yells across the village square: «Στέλλα, δεν ακουσες; Κρατάω μαχαίρι!», to Marlon Brando, ripping his shirt off, shouting, well, you know what name. However, it is not the voice of these men that echoes behind me, but her, my grandmother, she is the one who gives my name it's weight. I carry her on, and it seems that everyone who ever knew or crossed paths with her has a story to tell me.
Maria did become a teacher, for six years, until changing career paths. If you look her name up on the Internet, you'll find the first Greek-born woman to enter the Australian Federal Parliament. But always and above all, you'll find Stella's daughter and my mum.