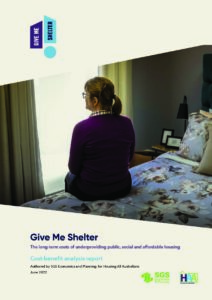 Housing All Australians launched Give Me Shelter – an economic report into the long-term costs of underproviding public, social and affordable housing.
We're proud to have partnered with Housing All Australians to deliver this study.
As an Australian first, Give Me Shelter outlines the long-term economic costs to Australia if we do not house all Australians.
Australia has experienced decades of underinvestment in social and affordable housing. Give Me Shelter shows that if this housing shortfall is left unaddressed, the additional cost to Australian taxpayers will reach $25 billion annually by 2051 (in 2021 dollars).
With the findings from this study, we aim to bring Australian business together for a national conversation on the importance of Housing All Australians.
Click here to read Give Me Shelter and support the drive to end Australia's housing crisis.
Join the webinar
.Housing All Australians are calling for your support to create a business-led movement to help solve Australia's chronic shortage of low-income affordable housing. If you'd like to be involved, share Give Me Shelter, sign up to their webinar on August 2, follow us on social media or contact us via the form below.